Buying your first home is an exciting process. Buying a house is likely one of the biggest purchases you'll ever make, and it can set up your future self for financial stability. As exciting as the process can be, there is also a lot to consider.
Before you even find the property you want to purchase, there are a few things you should do first. Tippla has put together the first steps you should take in buying your first home. But first, let's take a look at the general situation of the Australian property market.
Australia's property market for first home buyers
Despite the COVID-19 pandemic, so far this year, the housing market has remained largely resilient. According to the Australian Bureau of Statistics (ABS), $22.86 billion worth of new home loans were taken out during the month of June 2021 for owner-occupied homes. Whilst this was down by 2.5% from the previous month, it was higher by 75.9% from June 2020.
For the same period, the number of new loan commitments for first home buyers was down 7.8% from the previous month but remained at an elevated level similar to that seen in November of 2020.
Specifically, during the month of June, 14,418 new home loans were taken out by first home buyers. The largest number of home loans was taken out in Victoria, followed by New South Wales and Queensland.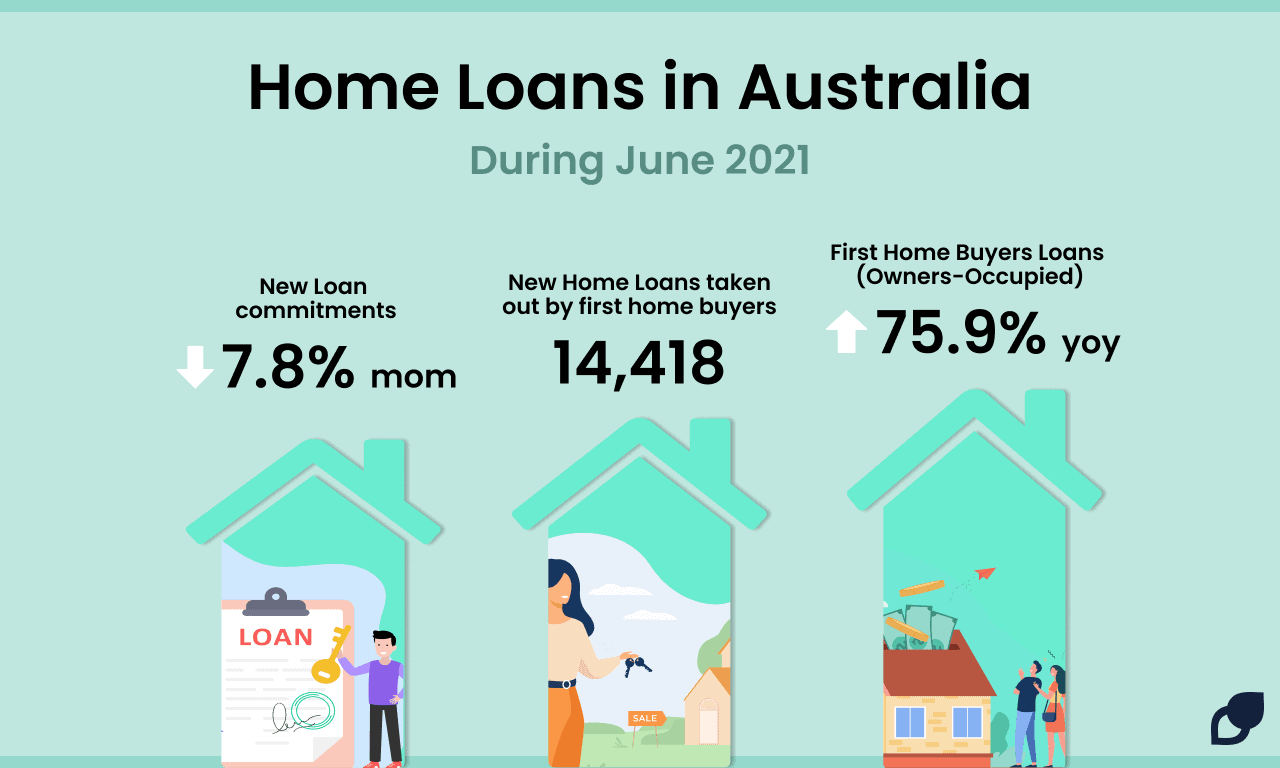 Now, let's get into the first steps you should take when buying your first home.
Step 1: Do Your Research
When looking at buying your first property, it's important to do your research and understand your motivation. Do you want a house to call home, do you want to use it as an investment property, or do you only plan to live in it short-term and then lease it out? For each of these situations, you'd likely be looking for a different kind of place.
Once you know why you're buying your first home, then it's a good idea to do your research and see what's out there. Housing prices change all the time. Get an idea of what you want, what area you would like to buy in, and how much what you want will cost in that area.
Here are some of the top property websites where you can search for what's on the market:
If you want to find out the average property prices per state in Australia, then you can check out the Australian Bureau of Statistics (ABS) latest figures. These are updated on a quarterly basis.
It's a good idea to do your research on what's available and get an idea of how much you are looking to spend if you want to buy in a specific area. You might find that what you want might be too expensive in the area you want to buy, so you might have to look in other areas.
Determine how much you can borrow
Unless you have enough money to buy a property outright, you will likely need to take on a mortgage from a financial institution to buy your first home. Before you take this step, it's a good idea to know how much you will likely be able to borrow.
The amount you can borrow will depend on your income, expenses and however much money you have saved. Banks, lenders and financial education platforms such as Moneysmart have a borrowing calculator, which can give you an idea of how much you could borrow, and what your repayments might look like.
Knowing how much you will likely be able to borrow can help you refine your search, and it means you won't waste time looking at properties that you probably won't be able to afford.
Borrowing capacity explained
In Australia, the amount you can borrow for a home loan will depend on the individual lender and their appetite for risk. To calculate your borrowing capacity, lenders will typically use the household expenditure measure (HEM).
When you apply for a home loan, they will take a look at a range of factors to determine your current lifestyle and financial stability. Some of the factors they'll look at include your age, income, employment, number of people making the application (eg. single individual vs a couple), number of dependants, spending habits, debts and more.
It is generally recommended that you borrow 80% of the value of the house you intend on purchasing. That means, you will need a 20% deposit for the house, and then take on a mortgage for the remaining 80%. This way, you can avoid paying Lenders Mortgage Insurance (LMI). If you are willing to pay LMI, then you can have a deposit of as little as 5%.
Understand the total cost of buying a house
When it comes to buying a house, there isn't just one cost you need to consider. You will also need to factor in stamp duty, conveyancing and legal fees, house and pest inspection costs, as well as other costs associated with your home loan including mortgage registration fee, loan application fee and more.
According to realestate.com.au, if you want to buy a home in Queensland that's valued at $500,000, you will likely end up paying between $10,000 – $20,000 extra in fees. Here's a breakdown based on their data from 2020:
Property value: $500,000

Conveyancing and legal fees: $1800

Stamp duty: $0 for first-home buyers, $8750 for others

Building and pest inspection (combined): $600

Mortgage registration fee: $187

Transfer fee ($35 for every $10,000 over $180,000): $1120

Loan application fee: $500 – $600

Mortgage insurance: $8000

Council and utility rates: roughly $500 (per quarter)
Therefore, considering all of these extra fees, you could be paying between $512,707 – $521,557 altogether. That's why knowing all of the costs associated with buying your first home can help you avoid any nasty surprises and budget effectively.
Look into government grants
If you are buying your first home, then you could be eligible for government grants. The main one is the First Home Owner Grant or the First Home Loan Deposit Scheme. For your first home, there is also a First Home Concession, where you can avoid paying the stamp duty for houses under $550,000.
Lenders Mortgage Insurance
Another thing you should look into is LMI. LMI is a premium that is added to your home loan if your deposit is below a certain level. Typically, if your deposit is less than 20% of the total cost of the property, then you will pay LMI.
The amount of LMI you will need to pay depends on how much of the deposit you have. If you only have a 5% deposit, then you will likely be paying a lot in LMI. But, if your deposit is 15%, then you likely won't be paying a lot for LMI. Nonetheless, LMI is an extra cost and one you can avoid if you have a deposit of generally 20% or more.
LMI is calculated on a sliding scale, so the closer you get to a 20% deposit, the less LMI you will need to pay. For example, if you're a first home buyer and you purchase a house for $500,000 and secure a mortgage with a 10% deposit, according to Westpac's stamp duty LMI calculator, then you'll be looking at paying about $13,830 in LMI. If you put down a deposit of 15%, then the LMI you will need to pay will be around $6,014.
Step 2: Start saving
Once you've done your research – you know what type of property you're after, how much you can afford to borrow, and you're aware of all the hidden costs, the next step is to start saving! It's generally a good idea to have already saved some money before you start looking into getting a property because a deposit can be quite hefty. Although the amount will depend on what you want to buy.
So how can you save money? One of the most effective ways to consistently save money is to establish a budget.
Here are a few different types of budgets you could explore.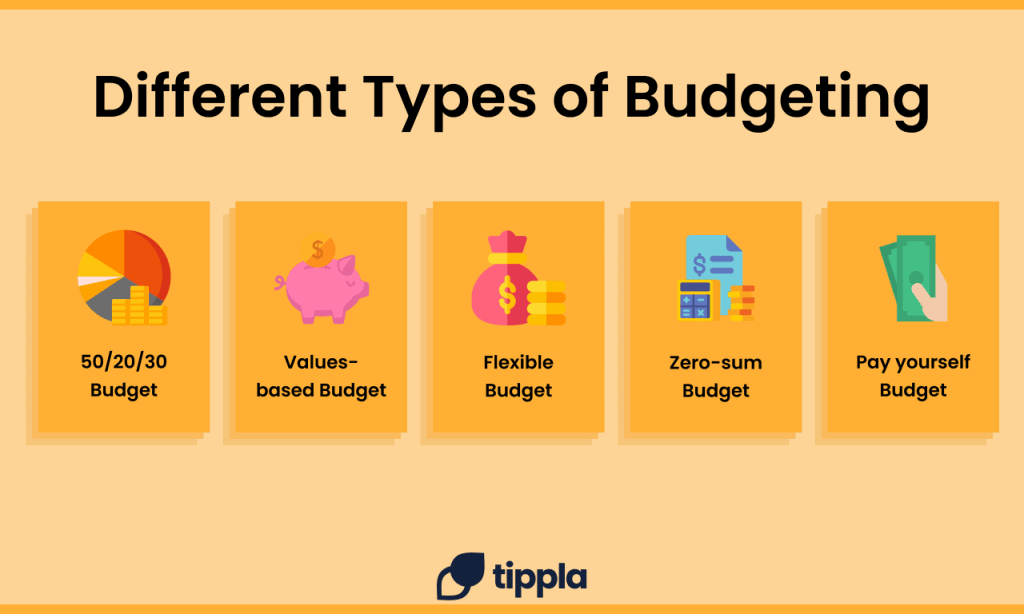 Step 3: Discover your home loan options
What comes next? You're already saving and you've got a general idea of all of the costs involved – what's the next step? One thing you could do is learn more about your home loan options.
Consider a mortgage broker
A mortgage broker is a person who acts as a go-between between yourself and banks and lenders to help you arrange a home loan. Mortgage brokers are required by law to act in your best interest when suggesting a loan for you.
Pros and cons of a mortgage broker
A good mortgage broker can be an invaluable resource. Not only can they help you understand all of the hidden costs when it comes to home loans, but they can also help guide you through the process of securing a mortgage.
A good mortgage broker should understand your needs and goals and help you work out what you can afford to borrow and find the financing options that suit your circumstances. They should also explain the characteristics of each loan, such as the interest rate, features and fees.
A mortgage broker will help you apply for the loan and then manage the process through to the settlement.
Mortgage brokers generally are paid via a fee or commission from lenders for selling their products. That means you as the consumer don't have to pay a mortgage broker – but some mortgage brokers will charge a fee. Be sure to clarify whether your mortgage broker charges a fee before using their services.
Because mortgage brokers typically receive commissions from lenders and banks for recommending their products, this creates an obvious potential conflict of interest. That's why it's a good idea to also do your own research.
Compare home loans
Regardless of whether you decide to enlist the help of a mortgage broker, it's a good idea to do your own research on home loans. When you take out a home loan, there can be many variables – the interest rate, loan features, and fees can vary among lenders.
Two important indicators you should look out for are the interest rate and comparison rate. The interest rate highlights how much interest you will be charged each year. You will need to repay the interest in addition to the amount you have borrowed.
The comparison rate, however, is a percentage that gives you a better picture of how much you will have to repay on top of the amount you borrowed. Specifically, the comparison rate includes the interest rate plus most of the fees and charges that come with the loan.
Moneysmart outlines that the following priorities when looking for a home loan:
Get the shortest loan term you can afford;

Aim for the lowest interest rate;

Warning – features costs extra.
Get pre-approval for buying your first home
Another part of the journey to buying your first home can include securing pre-approval from a lender. Loan pre-approval means that a lender has agreed in principle to lend you a certain amount of money to go towards buying your home. However, a pre-approval means it hasn't yet progressed to full or final approval.
The benefits of pre-approval mean that you have a stronger idea of how much you can borrow, and therefore, what kind of property you can afford to buy. It can also allow you to negotiate with more certainty, and if you go to an auction, bid with more certainty.
In order to secure pre-approval, they will ask for evidence of your current financial situation. This could include your bank statements, credit score, income and employment information. Pre-approval lasts for 3-6 months, but it doesn't mean you are committed to the loan, but it does show that you're serious about buying.
Step 4: Start house hunting
Now, you are ready to start looking for your dream home, investment property, or your starter home – whatever it may be! This is probably the most exciting part of the journey – attending house inspections, seeing what's out there, attending auctions.
Once you've got yourself set up and ready to go, now you can get serious and start the process of house hunting!