Loan 101 – what's better for me – personal loans or credit cards?
Are you looking into getting some extra cash but you're not sure about your options? You could either apply for a personal loan or get a credit card. Your choice should depend on two factors: What you plan to buy and how you're planning to pay it back.
Statistics show that Aussies are in debt equal to approximately 150% of their income. Therefore, it's not unusual for Australians to consider different loan options at some point in their life. Therefore, the question of whether to opt for personal loans or credit cards, is one many Aussies have asked. Your main two options are taking out a personal loan or borrowing money on your credit card. However, what option is best for you depends on your financial situation and financial goals.
What's the difference?
Both personal loans and credit cards allow you to borrow a certain amount of money from a financial institution.
Although both can be taken out for similar amounts, personal loans are given for a certain period. You will receive the full amount right at the start. From there, you will start repaying the amount in increments with added interest until you've paid the full amount.
Credit cards, on the other hand, are known as revolving lines of credit. They don't have but rather come with a set credit limit. You will have to make regular payments to keep your account. In the meantime, you can spend however much on your card as well as drawing up to the limit. Your repayments are a set percentage of the amount you spend each month. However, you do pay compound interest on the remaining debt and in some cases, your monthly payment only covers your interest. If you plan on taking out a larger amount of money, a personal loan is often the cheaper option.
Personal loans or credit card?
Personal loans and credit cards are both considered forms of credit that require monthly repayments. However, they differ in their features and fees. Some credit cards come with interest-free days, reward systems and balance transfers. They are an easy way to access a small amount of extra cash fast but you should be sure that you can make the repayments on time as your fees can add up quickly.
You can use personal loans best to borrow larger amounts of cash and to consolidate personal debt. Having a maximum loan term can also help plan your spendings and ensure that you fully pay off your debts at a certain point. In either case, make sure to check all costs and fees before signing up. Credit cards come with an annual fee, while personal loans may have additional application and service fees that come with the loan.
In both cases, your credit institution will look at your credit score when you send in your application. A good credit score will give you better options, therefore, it is sensible to know where you're at. At Tippla, you can keep track of your credit score and get tips on how to improve it.
Pros and cons: Personal Loans or Credit Cards
There are many advantages and disadvantages with taking out a personal loan vs credit card. It's important that you get a clear understanding of what they are to choose what's right for you. Let's have a look!
Personal Loans
Personal loans are best suited if you plan on making large purchases such as renovating your home, buying a car, or consolidating your debt. Additionally, they're suited for borrowing over a long period, as personal loans can range up to seven years.
Lower interest rates compared to credit cards
Having a repayment schedule means your debt will eventually end
Are cheaper if considering the long term
May have additional fees for early payoffs and therefore less flexibility
However, personal loans come with some disadvantages, too. All personal loans will have a minimum loan period, which means you must have the debt for at least a year. Personal loans may not be as flexible as other loans as you could get charged certain fees associated with redrawing or early payments.
Credit Cards
While credit cards seem to be an easy option to access cash quickly, you should think twice before taking large amounts of cash out. They often come with higher interest rates and encourage you to take on continuous debt. However, if you plan on making smaller purchases up to $5,000 and have a repayment plan in mind, they give you quick access to additional cash flow.
Easy access to consistent cash flow
Can consolidate debt into one payment
Interest-free days and rewards (however, you need to spend a lot of money to actually benefit from reward system)
Require minimum payment during every statement period
Very flexible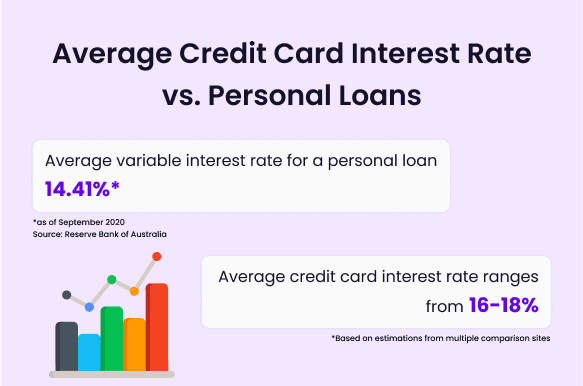 What to consider: Personal Loans or Credit Cards
You should think about a few things before you apply for a credit card or a personal loan.
Compare your options.
Firstly, you should have a look at interest and comparison rates to find the cheapest personal loan. You can figure out the true cost by checking the comparison rate, and additional application and service fees. Credit cards don't display a comparison rate, so your best bet is comparing their annual fees. Always read the small print to make sure you know about hidden costs or fees on missed payments.
Make your choice.
Choosing what's best comes down to your financial situation. If you are confident with your funds' control and spending, and strictly follow a budget, then credit cards are a good option. However, if you prefer having a more set repayment plan, personal loans could be your best option to keep track of your debt. Regardless of your choice, both options will require you to make regular payments towards your debt.
Save money where you can.
If you end up taking out a credit card, try and aim to pay more than your minimum repayment so that you can save on interest. On the other hand, if you borrow a personal loan, check with your lender first to make sure they won't charge you an early repayment fee. If you won't be charged, try and aim to pay back the loan as quickly as you can to save on interest incurred.
How does it affect my credit score?
Good question! Both forms of credit will have an impact on your credit score. When applying for personal loans or credit cards, your credit institution will send a so-called hard inquiry to check your previous credit history. If you get accepted or not will depend on your record (and other factors depending on credit type and institution). A rejected application can negatively affect your score.
Additionally, multiple credit applications in a very short period can also have a negative impact. However, you can improve your credit score by having a variable credit mix and managing your finances well. A credit mix consists of different types of credit like e.g. personal loans or credit cards. If you manage your repayments well, your credit score will improve over time. It's advisable to check your credit score frequently to know where you're at!