Ready to get on the road? Now the big question: Car loan vs personal loan, what's best?
You have finally found your dream car and can't wait to be road-tripping? If you are looking for the right funds to hit the road again, you've got two options: Should you take out a car loan vs a personal loan to finance it? How do you know what's best? Don't worry, we've got you covered.
What's best for you depends on what deals you can get. Firstly, you will want to compare car loans vs personal loans and find which one suits your budget and needs. Make it your mission to compare the market and find your best offer. You should look for interest rates and fees first, and which ones are best for the loan term you have in mind.
Which one should I choose: Car loan vs Personal loan
Car loan vs personal loan – what's the difference?
Car Loan vs Personal Loan

Car loan

Personal loan

A car loan is a loan that you take out with the purpose of buying a motor vehicle. This can range from a car, motorbike or any other road vehicle. The vehicle you purchase acts as collateral for the loan.

A personal loan is a loan for a specific amount of money that you use for personal expenses.

Personal loans can either be secured by some kind of asset (secured personal loan) or unsecured, where no asset is tied to the loan (unsecured personal loan).
Car loans are usually secured loans. The car that it finances acts as collateral. Secured loans often come with a lower interest rate. You may also be able to take out more money and buy a better car this way. However, if you only need a small amount of extra cash to buy your dream car, an unsecured personal loan could be just as good.
You won't need to provide the vehicle or any other asset as collateral. Why is that a good thing? Well, if you fail to repay your loan, after several warnings, your lender will have the right to repossess your vehicle. Additionally, unsecured loans are often easier to get.
While you do have the option to take out a car loan vs personal loan to fund a car, new or used, they're not the same nor do they work in the same way. Choosing between both loans depends on a few factors such as the type of car you plan on financing, and how much you can afford to repay now and over the term of your loan. The main thing you want to ask yourself when comparing rates of car loans vs personal loans is:
Do you see your financial situation changing over the term of your loan?
If you're expecting either minor or major changes in your finances over the term of your loan, you might want to consider taking out a personal loan. Those changes could be anything such as having a baby, buying a bigger home, or expecting a job change. As car loans are secured to your car, you don't want to risk having your car repossessed if you see changes happening soon.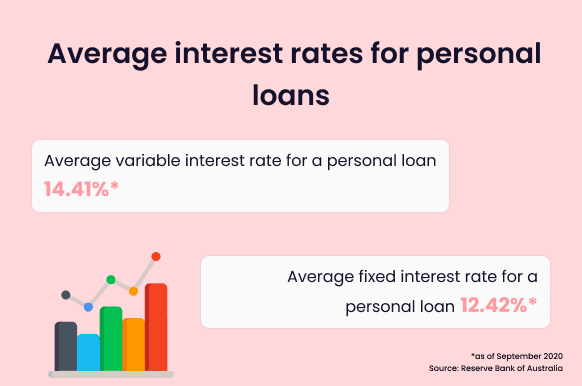 The car you plan on buying
If you're set on what car you plan on purchasing and have already thought of your budget, then you're ready to start negotiating with lenders. It's good to estimate how much you want to borrow so that you can then include additional fees such as interest into your budget.
The Moneysmart loan calculator can help you estimate repayments and total cost of a loan.
Your credit score and credit report
How does your credit score come into play when you're considering taking out a car loan vs personal loan? If you have a bad credit score, that's okay, you can still take out a loan. Car loans or secured personal loans may be your best bet as lenders will accept your car as security against the loan.
If you have a bad credit score, it's more likely that an application for a car loan is successful. Check your credit score today and find out where you're at. Additionally, you may also get better interest rates on car loans.
Is your car the only thing you want to finance?
Apart from borrowing funds to purchase a vehicle outright, some people may want to modify their cars either with new paint or have interiors changed. This could make a difference if you're considering a car loan vs a personal loan. If you plan on remodifying your financed car then a personal loan could be your best option. Personal loans usually cover the costs of remodifications. Car loans, on the contrary, don't usually cover extra costs such as remodifications as they serve the sole purpose of funding the market value of the car and nothing else.
Now that you've considered all these factors, you'll want to then compare your finance options. Make sure you use a loan payment calculator such as the one listed above to help compare car loans vs personal loans. Additionally, keep an eye out for the annual percentage rate (APR) of each loan you compare, to determine the total cost of each.
The main differences: Car loans vs personal loans
The exact terms will vary according to multiple factors such as your desired lender, your credit score and history, as well as the vehicle you plan on financing. Here are some of the main differences between car loans vs personal loans. Often, personal loans are a little bit more flexible. And they don't come with the risk of losing an asset.
You can take out a personal loan from any bank, credit union, or private lenders. Personal loans usually take less time to apply for because you won't be providing any collateral. All you'd need to do is provide your personal and financial details, along with the purpose of the loan.
Car loans, on the contrary, solely cover the market value of the vehicle you're buying. It's never a case of how much you can borrow, but rather how much the car is worth. Car loans can take longer to apply to compared to personal loans as you'd have to provide personal and financial details, as well as details of the car you plan on buying. Those details can include the car's make, model, and current condition. Therefore, car loans tend to have more restrictions than personal loans.