Do you want to check your credit score? Do you want to see your Equifax or Experian credit reports? Then look no further, Tippla has you covered. Here's a helpful guide on how to use Tippla and check your credit score for free.
What is Tippla?
Tippla is a credit score management platform that allows you to view your Equifax and Experian credit scores and credit reports. Don't know what a credit score is, or why it's important? Check out our helpful article here for a breakdown.
Not only can you view your credit scores and reports, but you can also get tailored credit offers on Tippla. If you are looking for a personal loan, then you can complete an application on Tippla, and you will be shown a table of lenders who meet your needs and could be willing to offer you a personal loan, based on your credit score.
What does this mean? You've already met part of the criteria to be approved for the loan.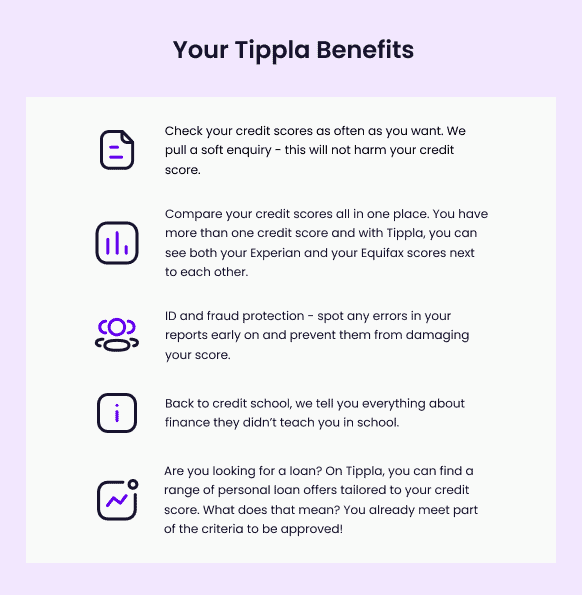 How to use Tippla: Sign-up process
Before you can access all of these great benefits, you need to sign up to Tippla. Because your credit score is sensitive information, we first need to verify your identity. This should only take a few minutes.
You can verify your identity with one of the following ID:
Your driver's licence;

Your medicare card;

Your passport.
Tip: the ID you use to verify your identity must be active. We can't accept expired identification as proof of identity.
Once your identity has been verified, you will receive an email with your temporary password. You can use this password to log into your Tippla account, where you will be taken to your Dashboard.
If your ID isn't automatically verified, you can reach out to our helpful support team to verify your identity manually. Please send them a photo of your ID (if it's a driver's licence, please send the front and back of the ID).
When you have successfully signed up to Tippla you will be taken to your Dashboard where you'll be able to see your credit scores from Equifax and Experian.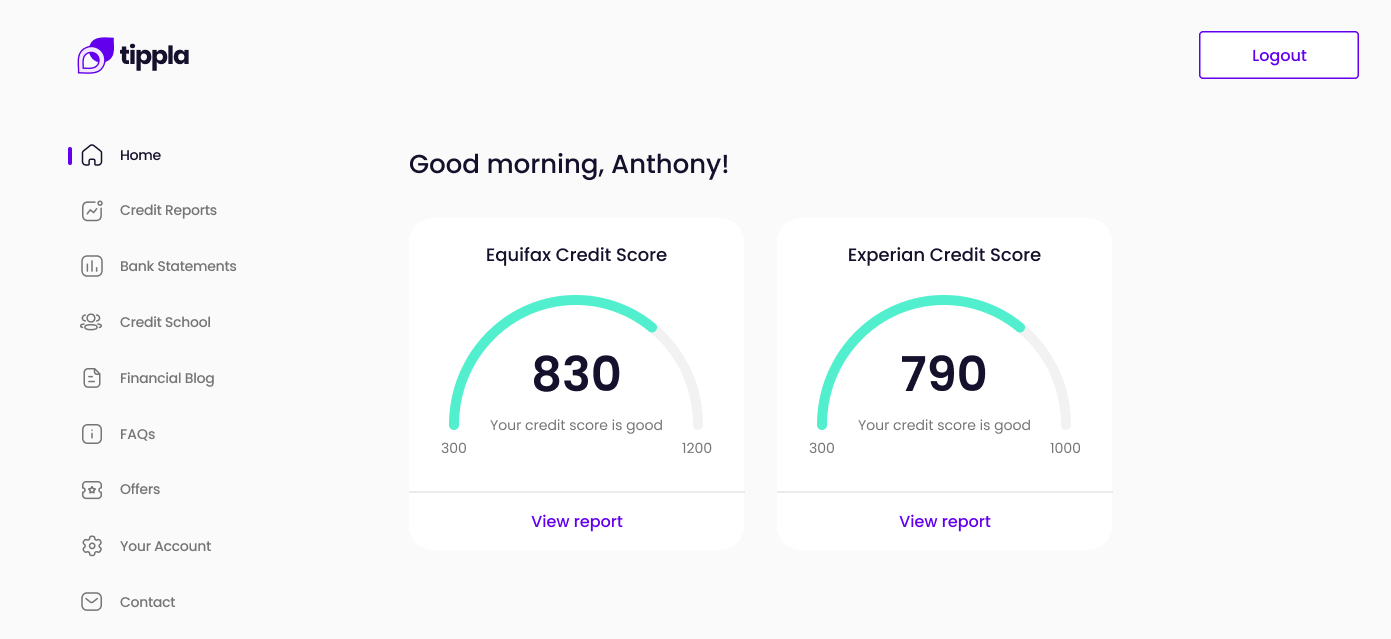 How to check your credit report
For a detailed overview of your credit reports, simply click on the "View Report" underneath your credit scores. When you press this button, you will be shown a more detailed breakdown of your report.
Specifically, you will be able to see the following:
Personal information

– such as your name, address, date of birth and employment;

Credit account information

– all of the credit accounts you currently have open or have closed in the past two years, such as any loans, credit cards, utilities, and more;

Repayment history

– your repayment history for your credit accounts will be listed on your report;

Credit applications

– every time you apply for some kind of credit, regardless of whether you were approved or rejected, it will appear on your report;

Negative entries

– this includes bankruptcies, defaults, public records and court judgements.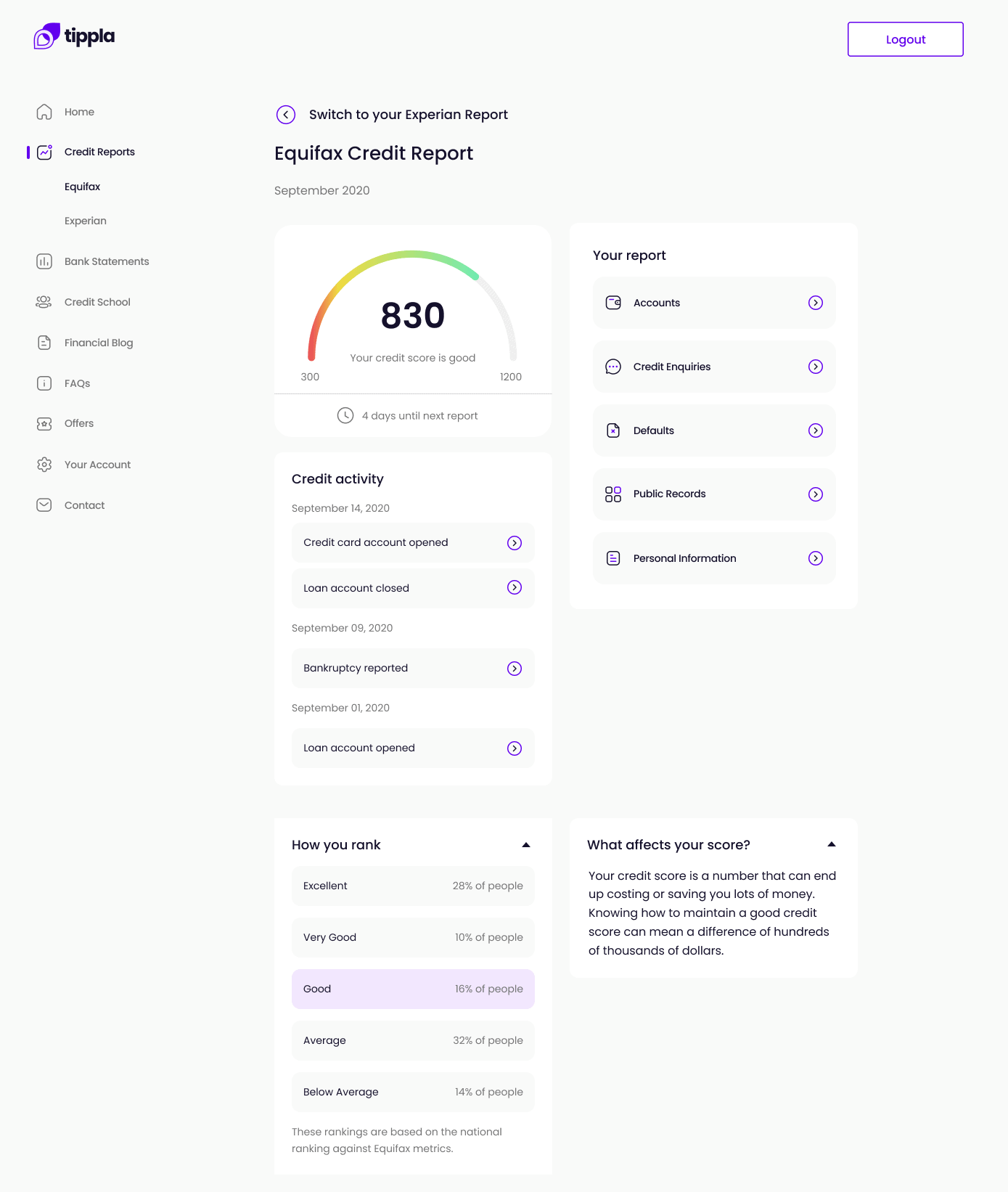 What can you use Tippla for?
You can use Tippla for many things, and the benefits will only increase as time goes on and we add even more features.
Check your credit score
In Australia, you have three credit scores. On Tippla, you can see two of your credit scores from the largest credit reporting agencies in the world – Equifax and Experian. Viewing your credit score gives you the opportunity to improve your financial independence – knowledge is power.
If you have a below-average rating, you can learn how to improve your credit score with Tippla. Or, if you already have a good credit score, you can learn how to keep it that way!
Check your credit report
Not only can you see your credit scores on Tippla, you can also see your Equifax and Experian credit reports. Not sure what's the difference between your credit score and report? Your credit score is a number ranging from 0 – 1,200. This number is based on all of the information contained in your credit report.
Not only is it a good idea to check your credit report to see where you stand, it's also important to make sure all of the information is correct. Did you know, 1 in 5 credit reports has some kind of mistake on them? This mistake could be harming your credit score, and could be hindering your chances of being approved for a loan.
Get access to personalised offers
On Tippla, there are a range of offers just waiting for you. Are you looking for a personal loan? Simply fill out the application form on our Offers section, and you will be shown a range of personal loans from different lenders.
These loans will be tailored to your credit score. What does this mean? You already have the right credit score required from the lender to be approved for this type of loan. Therefore, you have already met part of the criteria, increasing your chances of being approved for the loan.
Increase your financial literacy
Tippla's mission is to provide Australians with easy access to their credit scores, as well as improve their understanding of credit scores. As part of this, you can access a wealth of content that can help you increase your financial literacy.
Check out Tippla's Credit School
When you sign up for Tippla, you can take a short online course with Tippla's Credit School. This course will provide you with all the information you need to know about your credit score – what is it, why does it matter, and how to improve your credit score.
Not only that, through Tippla's Credit School, you can learn techniques to help you effectively manage your debt, budgeting tips and other information that can help you improve your financial situation.
Tippla's financial blog
The learning doesn't stop there! On Tippla's Financial Blog there is a wealth of information at your fingertips. Do you want to know more about credit scores, credit reports, insurance, loans? Tippla's blog covers all of this and more.
To start your journey to financial literacy, head to our Financial Blog.
Still have questions?
If you still have a question about Tippla, then head to our FAQ page for the most commonly asked questions, or reach out to our friendly customer support team at support@tippla.com.au.