What is best for my business: Should I get a business loan or personal loan?
You're ready to kick-start your business but don't know what loan is best? Luckily, there are many financing options available to businesses. Let's take a look at options and find out if it's best to take out a business loan or a personal loan instead.
Most businesses make use of a loan at some point in their life. There are many reasons why you may want to take out a loan for your business. You may just be starting out and need a solid financial base for your operations. Maybe you need to boost your cash flow to get through a dry period or maybe you want to invest in growth and expand your company. Both business loans and personal loans are suitable for different occasions and have their pros and cons. Whatever it is, let's help you determine what loan is best for your purpose.
What's the difference between a business loan and a personal loan?
If you are considering getting a personal loan or a small business loan instead, there are a few key points to consider. A personal loan is a type of loan based on your personal credit history. It may be easy to get if you have a good credit history already. A business loan, on the other hand, will look at both you and your business credit history. This may make it more difficult to get a business loan, especially if you're new to the market.
Do you know your credit score yet? It makes sense to keep an eye on it and build a solid credit history over time. Tools like Tippla can help you to monitor and improve your score.
Also, keep in mind that business loans can only be used for business expenses while a personal loan is more versatile. However, you will be personally liable for any debt, not your business. This may make it difficult to separate finances in the future, especially, if you have a business partner.
Benefits of business loans and personal loans
Before we get into further details, let's take a quick look at the pros and cons of each loan type.
Advantages of a business loan
Keeps your personal and business finances separate.
Lower interest rates
Less liability (depending on your business setup)
Can be shared with a business partner
Larger loan amounts
Helps you build business credit for the future
Advantages of a personal loan
Flexibility with money can be used for business and private
Easy approval
No collateral is needed for unsecured loans
A few things to consider before getting a loan
Before applying for a loan of any type, there are a few factors you should keep in mind:
Are you a sole trader or partnership? Business loans can be beneficial for partnerships as all partners will have equal access to the joint account. However, if you're a sole trader, a personal loan can be better suited as you'd have full control.
The loan term. Depending on the loan term, interest rates can be greatly different and you might find advantages in each type of loan. Shorter loan terms normally mean less interest but higher repayments. If that's suitable for you depends on your goals and financial situation.
The age of your business. You might find that if you're a new business, accessing a business loan can be more difficult than personal loans.
Another thing you should consider is the interest rates you might have to pay. Here are the average interest rates for personal loans.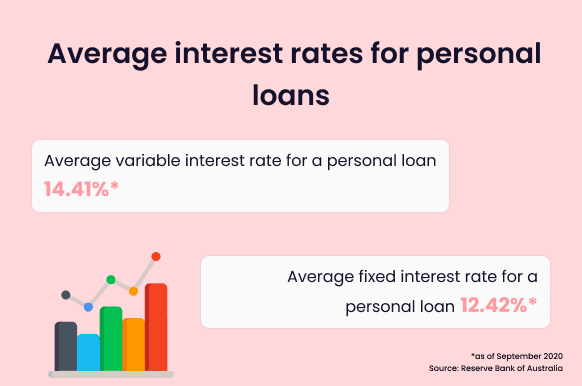 Which is simpler to set up: A business loan or personal loan?
Business Loan. When taking out a personal loan from financial institutions such as banks, you'll most likely be required to provide detailed projections, plans, and assurances that your company can comfortably repay the amount over the loan term. However, if you prefer a simpler approach to taking out a business loan, there are online business lenders that don't require many details to approve your business loan. Online lenders might approve of you after looking over some accounting information or financials and some personal details.
Personal Loan. Whether or not you get approved for a personal loan completely depends on your credit score and your financial situation. You will need to provide proof of income, a credit report, and possibly a set amount of tax returns.
Which offers the best value: A business loan or personal loan?
Technically, both types of loans offer good value for your business, in their way. Let's take a closer look at the benefits of each.
Business Loan. Business loans offer great advantages to business taxes. They help separate personal and business affairs. Additionally, if you're a retail business, this type of loan can be beneficial for reducing import duties on the products you would've purchased with the loan.
Personal Loan. You can easily ensure you're not overpaying for any business expenses that are usually paid for with personal loans.
What if I have a business partner?
If you decide on taking out a business loan, the loan will automatically be held in a joint account that's easily accessible by all partners. The risk on each individual is tremendously reduced due to the loan being guaranteed by all involved partners. However, if you decide on taking out a personal loan, you won't have access to the company's loan. The lack of access to joint accounts can harm the efficiency of the company and potentially create problems with responsibility if the company fails to pay the loan.
If you do decide on taking out a personal loan with business partners involved, there are some options of a joint application personal loan. This type of loan will most likely require a maximum of two applicants, however, you might find some that allow up to four partners.
Where will I find more flexibility: Business loan or personal loan?
With business loans, lenders will most likely apply strict limits on your loan for the first year. However, if you provide good initial projections, you could access an increase in your funds. You will also need to use up the entirety of loan on business purposes.
On the other hand, if you want to increase your funds later in a personal loan, you will have to provide your lender with evidence that the initial funds were used successfully to grow the business. However, you may also find personal loans useful for funding your business as well as other personal needs.
Should I choose a secured or unsecured loan?
Deciding whether you prefer an unsecured or secured business loan mainly depends on how much you plan on borrowing. Many banks will require security deposits or belongings for start-up loans. Some banks may only offer an unsecured line of credit loans. You may find some online lenders who could also offer unsecured loans. However, keep in mind that you'll most likely be charged higher interest on unsecured loans, so many may prefer taking out a secured loan. Although secured loans offer lower interest than unsecured loans, you will need to provide an asset as collateral. This asset can be repossessed if you fail to make your payments. Assets can include cars, homes, or expensive belongings such as jewellery.
It's important to note that you will need to be prepared to fully pay off secured loans, as repossession of your asset can impact your personal and professional life.
Helpful loan checklist
Before you apply for a loan, here's a helpful checklist Tippla has put together to get you started: