Visa and Mastercard are household names, recognised across the world. But do you know what's the difference between Visa and Mastercard? If you don't, then be sure to read on, we've got the answers you seek!
What are Visa and Mastercard?
Visa and Mastercard are both financial services companies that facilitate electronic payments across the world. They're one of the big four companies that dominate the industry, joined by American Express and Discover.
Both Visa and Mastercard don't provide physical cards nor do they extend credit to individuals, instead, they have partnered with a range of banks and financial institutions to offer their services. The two companies provide the largest range of products spanning credit, debit and prepaid options.
So what does this mean? Because the two companies are just digital payment platforms, they have minimal influence over the card products offered with their logo on them. For example, they don't determine the interest consumers are charges, credit card fees, rewards points, and other particulars of the card. These are determined by the banks and financial institutions offering these cards.
About Visa
Based in America, Visa Inc. (NYSE: V) facilitates electronic funds transfers throughout the world. This is most commonly achieved via Visa-branded credit, debit and prepaid cards.
Because Visa doesn't provide the actual cards, they don't make money on the interest and fees connected to their cards. Instead, they make the bulk of their profit from charging banks and financial institutions a fee for using their payment network.
About Mastercard
Mastercard Inc. (NYSE: MA) is also an American-based company. It is the second-largest payment network, behind Visa. The company's primary source of revenue comes from the fees it charges.
As is the case with Visa, Mastercard makes the bulk of its money from charging its clients a fee to use its electronic payment network. The company doesn't control the fees and interest associated with its cards.
What's the situation in Australia?
Like most countries, Visa and Mastercard dominate the electronic payments market in Australia. According to Statista.com, in June 2020, the two companies were responsible for 84.7% of the value of all Australian credit card payments. Furthermore, over the past five years, they have continued to increase their market share.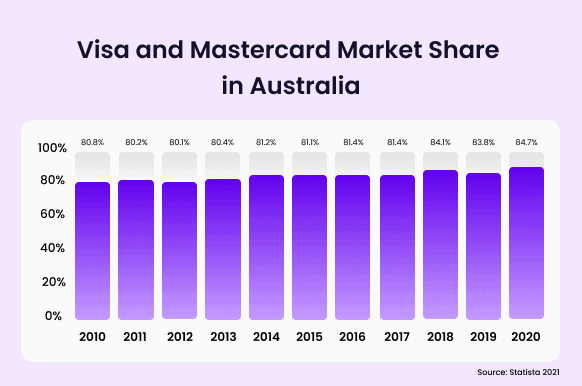 Credit cards in Australia
Although Visa and Mastercard dominate the electronic payments market in Australia, what does that market actually look like? According to Finder, there were 13,432,262 credit cards in circulation as of March 2021. Together, these cards netted a national debt accruing interest of $20.5 billion.
As for debit cards, for the same period, there were 35,279,958 in circulation. The average debit card purchase was $46, and on average, debit card users made 23 purchases per month.
What's the difference between Visa and Mastercard?
So now you know what the two companies are and their presence in Australia, let's get stuck into discovering what's the difference between Visa and Mastercard.
The main difference between the two brands is the payment network that the company operates on. Visa and Mastercard both have their own separate payment networks. Visa cards won't work on Mastercard's payment network. The same goes for the other way around.
Aside from this main difference, there aren't many other variations between the two payment networks, especially from a consumer's perspective. Any other differences come from the specific card you have.
Because both companies partner with a range of banks, not all Mastercard cards are the same, nor are all Visa cards the same. They vary depending on the card issuer. Therefore, you might find differences between the types of rewards offered, the interest rates of individual cards, and the specific terms and conditions.
Alternatives to Visa and Mastercard
Even though Visa and Mastercard clearly lead the pack when it comes to electronic payments, there are two other large players in the market – American Express and Diners Club. Let's jump in to see how these alternatives are different and what benefits they might offer.
American Express
Similar to Visa and Mastercard, American Express (commonly referred to as Amex) operates its own card network where it processes electronic payments. Unlike its two largest competitors, American Express doesn't just process payments, it also issues credit and charge cards. Furthermore, American Express processes its own cards, as well as cards from other issuers on its card network.
What are the perks of American Express? Generally speaking, Amex offers better rewards than the other two companies. These range from frequent flyer points, membership rewards, dining perks and more. This is one of the main appeals of American Express cards.
The downsides of Amex is that they are known for charging higher credit card processing fees. Because of this, some merchants don't accept American Express. Therefore, as a consumer, there are fewer places where you can use your Amex card.
Diners Club
Similar to American Express, Diners Club isn't just a payment system, it also issues cards directly to the consumer. Furthermore, the company also finances payments and processes the transfers. Visa and Mastercard make most of their money from charging banks and financial institutions a fee for using their payment networks, Diners Club makes most of its money through the interest charged and fees.
What are the perks of a Diners club? Similar to Amex, the card offers different rewards than Visa and Mastercard. If these benefits align with your lifestyle, ie. If you travel a lot for work, then a Diners Club card could be beneficial for you.
The benefits include free airport lounge access, travel insurance and purchase protection, retail perks, and because the company has partnered with Mastercard to improve its accessibility, users can also access Mastercard perks.
This means, unlike American Express, Diners Club is accepted everywhere that Mastercard is accepted. Nonetheless, like Amex, Diners Clubs cards generally charge higher interest rates, as this is one of their biggest sources of revenue.
The verdict: what's the difference between Visa and Mastercard?
To sum it up, what's the difference between Visa and Mastercard? Overall, there is very little difference between the two. They both serve an identical purpose, and both have a large coverage of the global payments network.
From a consumer's perspective, there isn't any notable difference. The real variance comes from the individual cards but those differences are dictated by the card issuer, ie. the bank, not Visa or Mastercard themselves.